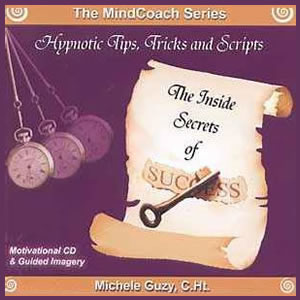 Do you have credibility, confidence and composure?
Does fear of making a mistake or anxiety hold you back in your new profession?
Do you feel that you are ready to embrace your new career and create the success you deserve?
Michele Guzy, Certified Hypnotherapist, offers her "Inside Secrets of Success" for a rewarding career in hypnotherapy. This motivational program is designed to increase your confidence as a Hypnotherapist with the following topics:
The 5 Secrets of Success
Don't Panic - How to stay calm under pressure with a new client
Master the Basics - Using hypnotic techniques to create change
Building Rapport - You have 15 seconds or less to establish rapport
Effective Listening - The most successful therapists do this very well
Believe in Yourself - You can do anything you set your mind to do
Coupled with a dynamic 20-minute guided hypnosis session, Michele will release your subconscious limiting beliefs on success and prosperity and help you achieve all of your professional goals.
After purchase you'll be presented with download links for the MP3 files. You'll have access to these links for 30 days.