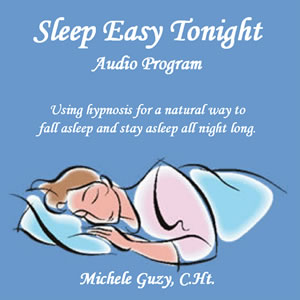 Sleep Easy Tonight is an audio series designed to reduce the stress of every day living and quite the mind when it is time for you to go to sleep at night. You will be able to achieve deep relaxation and mental freedom, improve your sleep cycles and have more energy.
In the first program you will have a better understanding of the stages of sleep and how insomnia affects your daily life.
Sleep Easy Tonight will incorporate simple sleep strategies to allow your mind to sleep quickly each night. It includes a 30-minute powerful hypnotic session to trigger deep sleep with anchoring techniques and count down methods.
There is a bonus 50-minute track designed to listen to while you falling asleep at night. Using soft, smoothly suggestions combined with deep, theta music you will easily drift off to sleep and into a dream state. Music composed by Leigh Spusta. Hypnosis Imagery is for personal use. Do not listen to while driving.
After purchase you'll be presented with download links for the MP3 files. You'll have access to these links for 30 days.