NLP Practitioner Certification Bundle - Online Certification Courses
Presented By: Joe Tabbanella and Michele Guzy
The American Hypnosis Association (AHA) is proud to offer you the choice of two excellent NLP Certification Courses with two exceptional NLP Trainers. We at the AHA have been very fortunate to have had the best of the best in hypnosis and related fields pass through our doors and teach at our campus.
These two NLP Trainers are both so excellent, but yet so different, that we decided to offer both courses to accommodate different learning styles. As a trainer, Michele Guzy's experience shines brightly, she is organized, precise, orderly, fun and clear. All her courses are top rated, and her course carries the banner of the ABNLP approval. Total 8 days of training and 130 CEU hours.
Joe Tabbanella's seminars are driven by passion and clinical experience as he presents from a clinical perspective as a private practice therapist. Joe's personal charm, heart and charisma direct the flow of information and techniques, with stories, humor and care. His clinical demonstrations with audience members are spontaneous, moving and effective, providing excellent examples, perspective and applicable learning opportunities of NLP tools.
This NEW NLP Training also includes Certification in MER (Mental Emotional Release) – two extra days of learning, practicing and watching demos of this extraordinary technique that assists individuals in releasing old beliefs holding them back from creating the life they desire. Total 10 days of training and 125 CEU hours.
The reviews for both programs have been nothing short of stellar, so we suggest you watch the video previews of each and let your intuition and your inner wisdom decide which one resonates with you more. Of course you can also do what we did and just take both.
Either Course Qualifies YOU for Certification in NLP
"Certified Practitioner of Neuro-Linguistic Programming"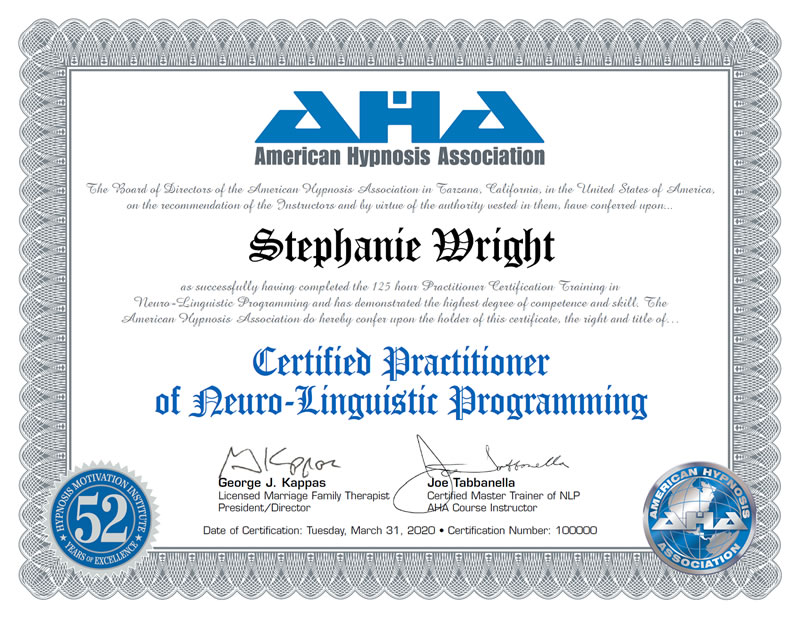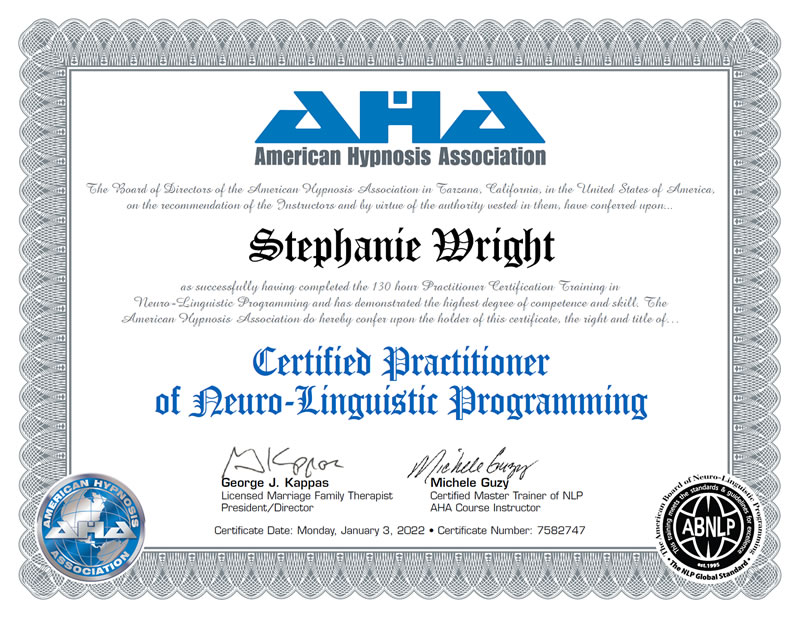 ---
NLP Practitioner Certification Bundle
NLP Practitioner Certification Bundle - Online Certification Courses – $2,190.00
AHAPPVNLPBUN
Register or Login to Order
You must be logged in to your AHA/HMI Account to order this Pay-Per-View course. Purchase options and promotional pricing are available after login. Please choose one of the three options below:
Not an AHA Member? – Join the AHA Today!
Become a new or renewing member of the AHA today for just $179.00 per year and receive your choice of an exciting $109.00 or $159.00 online streaming video seminar for FREE.