Hypnotherapy Diploma + Mind-Body Psychology Degree
At last, the rewarding new career you have been waiting for, from an educational institution that treats hypnotherapy like a true healthcare profession. HMI College of Hypnotherapy now offers you a unique opportunity in hypnotherapy education by providing a nationally accredited one-year Clinical Hypnotherapy and Internship program, with the option to add an unprecedented second year, Mind-Body Psychology Degree.
Celebrating over 50 years of excellence, The Hypnosis Motivation Institute (HMI) is a Non-Profit Organization that holds the distinction of being America's First Nationally Accredited College of Hypnotherapy. HMI is accredited by the Accrediting Council of Continuing Education (ACCET), an accrediting agency authorized by the U.S. Department of Education.
Featuring a world-class instructional staff, supervised clinical internship, and an unparalleled curriculum, your dreams for hypnotherapy training have arrived. Whether you're interested in starting a new private practice career as a Hypnotherapist or wanting to add the powerful resources of hypnotherapy to your existing healthcare practice, HMI is the choice for you. Best yet, HMI's interactive remote-learning programs provide convenience, flexibility, safety, and the opportunity to study from anywhere in the world.
School Catalog – Everything You Need to Know
We invite you to carefully review the HMI School Catalog to see the details of the breath, scope, content and instruction staff of this unparalleled hypnotherapy diploma and psychology degree program. Please note: No prior degree is required to attend.
Containing 70, short, easy to read pages and 160 images, everything you want and need to know about HMI's Clinical Hypnotherapy Diploma, Mind-Body Psychology degree and Clinical Internship programs, including tuition costs and Federal Financial Aid options, course content, certification, accreditation, instruction staff and much more is provided in detail.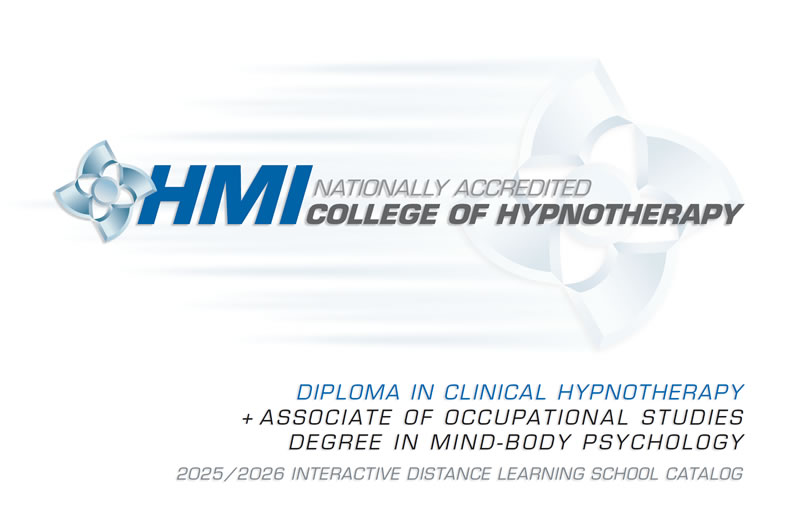 Start Now! Instant Access to Your First Lesson
Begin your journey right now with instant access for no cost or obligation. Your introductory lesson, Hypnosis in History, is a 40-minute video documentary which presents the revealing and fascinating history of Hypnosis and Hypnotherapy.
Starting with the ancient Egyptians and Greeks, our story guides you through the pivotal pioneers of Mesmerism and Hypnosis in Europe, tracing the existence and evolution of hypnosis for the past 5,000 years. This is the required first step for all applicants to HMI College of Hypnotherapy.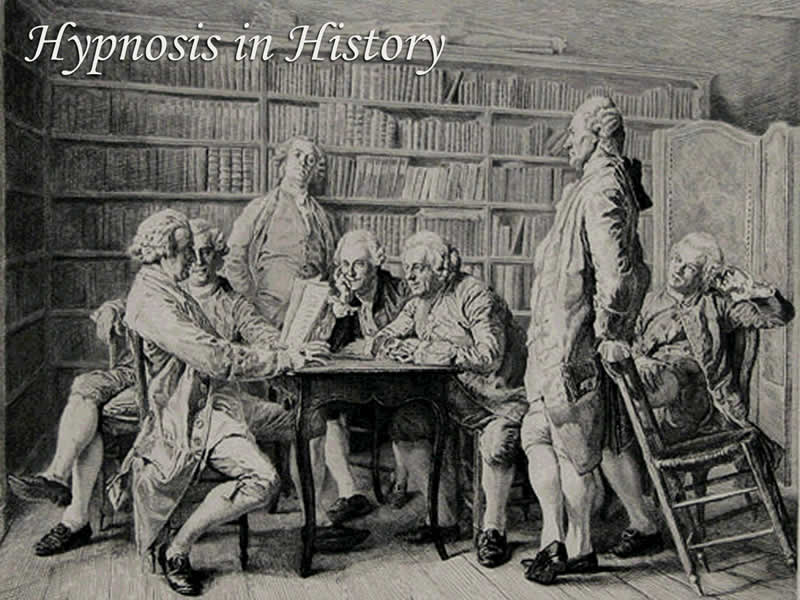 Year One – Become a Certified Hypnotherapist
Diploma in Clinical Hypnotherapy
HMI's one-year, 720-Hour, Clinical Hypnotherapy Diploma program is the first year in our One-Plus-One, two-year program. You have the option to take this first year as a stand-alone program and earn an Accredited Diploma and fulfill all the requirements to be Certified as a Hypnotherapist (CHt).
Successful completion of this first-year program also makes you eligible to apply for HMI's second year of their One-Plus-One program to earn an Associate of Occupational Studies Degree in Mind-Body Psychology and qualify as "Certified Clinical Hypnotherapist" (CCHt) with the American Hypnosis Association (AHA).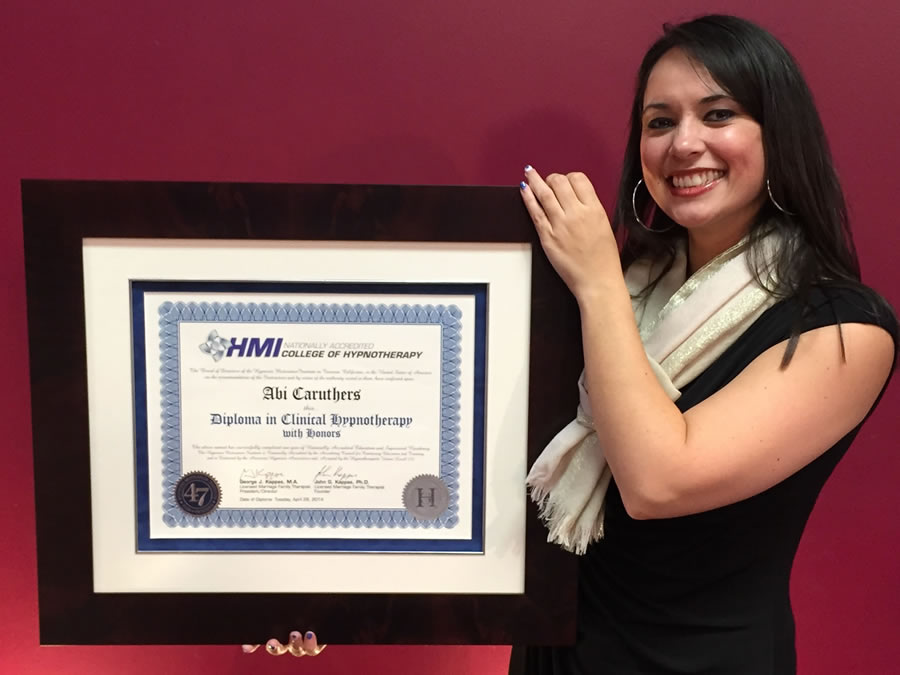 Top 10 Features of HMI's 720-Hour Clinical Hypnotherapy Program
One year of training with HMI's 12 Senior Instructors, representing over 250 years of combined professional experience.
Over 900 hours of prerecorded video instruction lessons.
Three hours a week of live on Zoom, lecture, questions and answers with Senior HMI Instructors.
Up to 12 hours a week of hypnosis demonstrations and supervised practice with other HMI students.
Six months of Clinical Internship with clients provided.
Up to six hours a week of Clinical Supervision sessions with HMI Senior Instructors.
Flexible schedule with days, evenings and Saturday classes available.
Nationally Accredited Diploma in Clinical Hypnotherapy.
Eligible students start with no money down and no payments for 18 months.
All from the safety and convenience of your own home!
* Disclaimer: HMI's Financial Aid Office will explain details, individual differences, and any exceptions to this information.
Year Two – Become a Certified Clinical Hypnotherapist
Associate of Occupational Studies Degree in Mind-Body Psychology
HMI is redefining what it means to be a "Clinical Hypnotherapist" with this new "One-Plus-One" educational opportunity. "One-Plus-One" means that graduates of HMI's one-year, 720-Hour Diploma in Clinical Hypnotherapy program, now have the option to add a second year of accredited study in Mind-Body Psychology to their resume.
After completing the combined two years of applied learning, which includes 18 months of clinical internship, HMI graduates enter private practice with a winning combination of an Accredited Diploma in Clinical Hypnotherapy and an Associate of Occupational Studies Degree in Mind-Body Psychology. This combination provides students the most extensive and thorough preparation for a career in Hypnotherapy available anywhere in the world today.
We invite you to review the HMI School Catalog to see the details of the breadth, scope, content, and instruction staff of this unparalleled psychology degree program. No prior degree is required to attend.
Note: This AOS Degree Program is only available to graduates of HMI's 720-Hour Diploma in Clinical Hypnotherapy Program listed above.
Top 10 Features of HMI's Associate Degree in Mind-Body Psychology
One year of clinical psychology education from graduate-level professors, no undergraduate degree required – 240 hours.
12 months of clinical internship with clients provided.
Weekly clinical supervision under licensed Psychologists, LMFTs, and LCSWs.
In-depth training to recognize and understand DSM Disorders.
12 months access to the Psychotherapy.net Library.
Flexible evening and Saturday class schedules.
Interactive Distance Learning (IDL) allows you to attend from anywhere in the world.
Qualify for Certification as a Clinical Hypnotherapist (CCHt).
Eligible students can start with no money down and no payments for 18 months.
All from the safety and convenience of your own home!
HMI Internship Allows You to Earn While You Learn
HMI's Clinical Hypnotherapy Internship program provides students the opportunity to earn while they learn as they start seeing clients on Zoom, while receiving advice and direction from HMI Clinical Supervisors, who provide up to 5 hours per week of live interaction and supervision. Students can start seeing clients and building their private practice in as little as six months.
Year One – 6 months of Clinical Supervision under Senior Hypnotherapy Instructors
Year Two – Additional 12 months of Clinical Supervision under Graduate Level Psychology Instructors and Licensed Mental Health Professionals
HMI internship also includes courses on marketing, advertising and business practices, providing students six months experience marketing their private practice, charging fees, and building their private practice while still in school as well as earning supervised experience hours required for Hypnotherapist Certification.
Start With No Money Down and No Payments for 18 Months
Federal Financial Aid is available to eligible students who can start their training with no money down and no payments for 18 months. That gives you one full year of building your private practice before you make your first $97 payment towards tuition. It doesn't get easier than that.
Students that transition into the second year of study have the option to defer their payments for a total of 30 months.
Begin Risk Free – HMI Enrollment Guarantee
The first 60 days of your enrollment is a trial basis for both you and the school. If for any reason you question your decision, there is no cost, obligation or explanation necessary.
Stay Safe – Study from the Comfort of your Own Home
HMI Accredited Online Interactive Distance Learning empowers HMI students to complete this incredible training program from anywhere in the world, completely online, watching class videos and interacting with instructors and peers via Zoom. Stay safe, study and prepare for a rewarding career from the comfort of your own home.
The Most Interesting Work from Home Career
As a Certified Hypnotherapist using Zoom you can have a 100% home-based career helping others around the globe, integrating Mind Body and Spirit.
Now from the safety and convenience of your own home, you can provide your clients not only a caring, sensitive and empathetic ear, but also a unique and powerful physical and emotional experience which has potential to provide instant relief from stress, fear, self-doubt, overload, and much more.
Alternative Option – Self-Paced Study
Non-Internship Program
Offering a third option for hypnotherapy training, HMI's 300-Hour IDL Program, provides training to those looking for a more self-paced, more independent study, that does not require as much in time and investment.
Comprised of 54 two-hour streaming video lessons, interaction with a personal Tutor, and the ability to progress at your own pace. This is the perfect choice for existing healthcare or mental health professionals who are looking for continuing education, do not require internship, or who are not looking to start a new career in private practice, or other students whose schedules do not allow for a set schedule of lessons or the time commitments of HMI's more in-depth programs.
Here are six free, fun and easy ways to help you discover if a career helping others as a Certified Hypnotherapist might be right for you.
---
HMI offers a wide variety of free self-improvement classes online. This is a great opportunity for you to see what hypnotherapy and HMI classes are all about. Read the descriptions and pick a class that interests you.
---
Watch as real clients receive professional hypnotherapy sessions in the HMI classroom. Their life-changing transformation provides an intriguing and educational experience that will demonstrate exactly what the career of Hypnotherapy is like.
---
Hypnosis TV is just another reason why you'll want HMI to be your partner in success for your Hypnotherapy education. Streaming 24 hours per day, 7 days per week, Hypnosis TV features live Hypnotherapy sessions, self-improvement classes, guest speakers and a variety of original programming. Download the Hypnosis TV Channel on your Roku, iPhone, iPad or Android phone or tablet. Watch Hypnosis TV on your personal computer or other device.
---
We are here to answer all your questions, explain in detail the scheduling of classes and clearly outline your tuition and financial aid options. We are happy to explore how our flexible schedule can accommodate and meet your personal needs. Last but not least, we look forward to showing you how you can earn while you learn during clinical internship. We schedule interviews via Zoom on Mondays through Thursdays from 11:00 AM to 8:00 PM Pacific Time. Call us today at 1-217-494-0705 to schedule a tour.
---
Begin your HMI journey right now with instant access online. A prerequisite for your application to HMI IDL School is the successful completion of our Hypnosis in History Course. Hypnosis in History will take you from the Ancient Egyptians through modern day, tracing the existence and evolution of hypnosis over the past 5,000 years.
---
Your decision to join the HMI Family and pursue a career helping others as a Hypnotherapist is one of the most important decisions in your life today. Now you can make that decision with a feeling of confidence and security with the following guarantee: If for any reason at the end of HMI's four-week Hypnosis 101 Course you are not 100% sure, or ready to continue your studies, you may withdraw from the program without any cost or obligation whatsoever. How much better could this offer be?
---
1. How Much Does HMI's Clinical Hypnotherapy Program Cost?
The total cost of HMI's tuition is $16,239, but after federal grants, scholarships and discounts eligible students may receive, the average out of pocket cost to the student is reduced to approximately $9,500. That tuition is then divided into monthly payments of approximately $98 per month, beginning 18 months after you start your course. Prices are subject to change.
---
2. What is an Accredited Diploma in Clinical Hypnotherapy?
Earning an Accredited Diploma in Clinical Hypnotherapy from HMI's 720-Hour, one-year training and internship program, is the highest achievement and most extensive training available in hypnotherapy today. When researching a school, you're likely considering cost and programs offered, but are you checking for accreditation? This is arguably one of the most important factors.
---
3. Do I Need a Degree, Prior Education or Other Credentials?
The only requirement for enrollment in HMI's Distance Education program is a High School Diploma or its equivalent. You do not need a degree or other credential to enroll. Many people consider this an alternative to a traditional psychology degree. (See Alternative to Psychology Degree below)
---
4. Is Hypnotherapy Training an Alternative to a Traditional Psychology Degree?
Top reasons to choose HMI as an alternative to a traditional psychology degree.
HMI is a one-year program that includes clinical internship and the• opportunity to "Earn While you Learn." Traditional psychology takes between 5 to 10 years before you can start your private practice.
HMI Tuition is $9.5k to $16k vs. $50k to $80k for a Master's Degree.
HMI training provides you with clinical supervision and the opportunity to work with pro bono clients; psychology programs generally do not.
HMI courses are fun, entertaining and prepare you to immediately begin helping people with a wide variety of self-improvement goals.
---
5. How Much Training do Hypnotherapists Really Need?
How would you feel if you went to a Hypnotherapist and later discovered they only completed one week of training? How about two weeks? How about 60 days? There are no other helping professions including Nurses, Massage Therapists, Doctors, Dentists, Dental Assistants, etc., that allow you to graduate from an unaccredited school or be trained in a two-month crash course.
None of those professions would allow you to offer your services to the public after attending a school that only had one or two instructors, or a school that traveled state-to-state offering 10-day trainings in hotel rooms. HMI recommends that you use the same standards for choosing your hypnotherapy education as you would for any other healthcare career.
---
6. What Does Certification as a Hypnotherapist Really Mean?
One of the first questions we hear from prospective students is "Does your training make me a Certified Hypnotherapist?" They often seem a little confused about this question because every school they've found on the web claims to make them a "Certified Hypnotherapist" in time frames from one week to 60 days.
To add to the confusion, there are at least half a dozen "Certification Agencies" out there, all representing themselves as the "One" you need to be recognized in the field. On top of that, they all have official sounding names that lead you to believe they are government or international agencies.
In fact, all of those official sounding names are nothing more than fictitious business names for individuals or groups who are in the business of selling "Certifications." None of them are government agencies required for you to practice hypnotherapy or play any role in your legal right to call yourself a "Hypnotherapist."
---
7. Who Teaches HMI's Training Courses?
One of the key features of HMI's training is 12 Senior Staff Instructors with over 150 years of combined professional experience. Senior Staff Instructors are HMI Graduates with 10 to 20 years of clinical experience. Every Instructor is active in the private practice of hypnotherapy and represents a specialized area of expertise within the field of Hypnotherapy.
---
8. Does HMI Training Include NLP, Past Life Regression and Biofeedback?
Yes, HMI IDL School includes training in NLP, Past Life Regression, Biofeedback, Therapeutic Imagery and much, much more. In addition, students have the option to seek specialized Certification in NLP, Imagery, Past Life Regression, ADHD and 20 subjects.
---
9. What Professional Credentials Can I Earn?
Upon completion of Semester One and Two you are awarded the highest achievement in the hypnotherapy profession. HMI's Nationally Accredited Diploma in Clinical Hypnotherapy. Your Accredited Diploma also fulfills all the requirements for your designation as "Certified Hypnotherapist" (CHt) with the American Hypnosis Association (AHA).
Membership in the American Hypnosis Association
Your Accredited Diploma and Degree, combined with your American Hypnosis Association Certification and Continuing Education, will be your Four Cornerstones of Hypnotherapy, representing you to the world as the most qualified hypnotherapy professional today.
---
10. When Does the Next Semester Start?