HMI's College of Hypnotherapy invites U.S. Veterans to consider a wonderful new career in the helping profession. HMI is proud to accept students taking advantage of Post 9/11 GI Bill benefits.
The One Year Resident In-Person Training at HMI Offers…
Flexible evening lectures that meet twice a week.
Flexible practice workshops with instructors and students during the afternoons and on weekends.
On campus clinical internship allows you to start your hypnotherapy practice in six months.
Professional office and clinical supervision included for internship.
Live therapies conducted in the classroom on "real" clients.
Business courses and elective seminars for advanced training.
More details on our Nationally Accredited, one year hypnotherapy training and internship program.
More Information on Post 9/11 GI Bill Benefits
As a veteran you may be eligible for education benefit programs offered by the Department of Veterans Affairs and Defense to assist you with the cost of tuition. The following is a brief explanation about these benefits.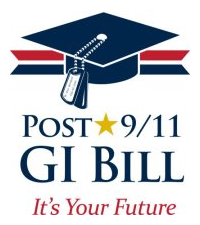 If you served on Active Duty, you might be eligible for education benefits offered by the Department of Veterans Affairs. For example, the Post-9/11 GI Bill provides financial support for educational and housing expenses to individuals with at least 90 days of aggregate service after September 10, 2001, or individuals discharged with a service-connected disability after 30 days. You must have received an honorable discharge to be eligible for the Post-9/11 GI Bill.
If you are currently serving in the military, you may be eligible for funding offered through the Department of Defense Tuition Assistance program. Check your eligibility status and the amount for which you qualify with your Service prior to enrolling.
If you are the spouse or child of a service member who is serving on active duty Title 10 orders in the paygrades of E1-E5, O1-O2, or W1-W2, you may be eligible for financial assistance from the Department of Defense for education, training, and/or the occupational license and credentials necessary for a portable career.
If you are the spouse or child of a service member, you may be eligible for transfer of the service member's Post-9/11 GI Bill benefits to you.
Other Assistance – Financial Aid
If you apply for federal student aid you may be eligible to receive grants and student loans under Title IV of the Higher Education Act of 1965. The maximum amounts for each funding source are listed below.
Pell Grant: $5,815,00
FSEOG: $500.00
Student Loans: $9,500.00
Note: The terms and conditions of federal student aid loans may be more favorable than the provisions of private education loans.
For more information about your eligibility contact Richard Ortiz, HMI's Director of Financial Aid at 818-758-2747.
References