Biography for
Alexis Hines

,

MS

,

CCHt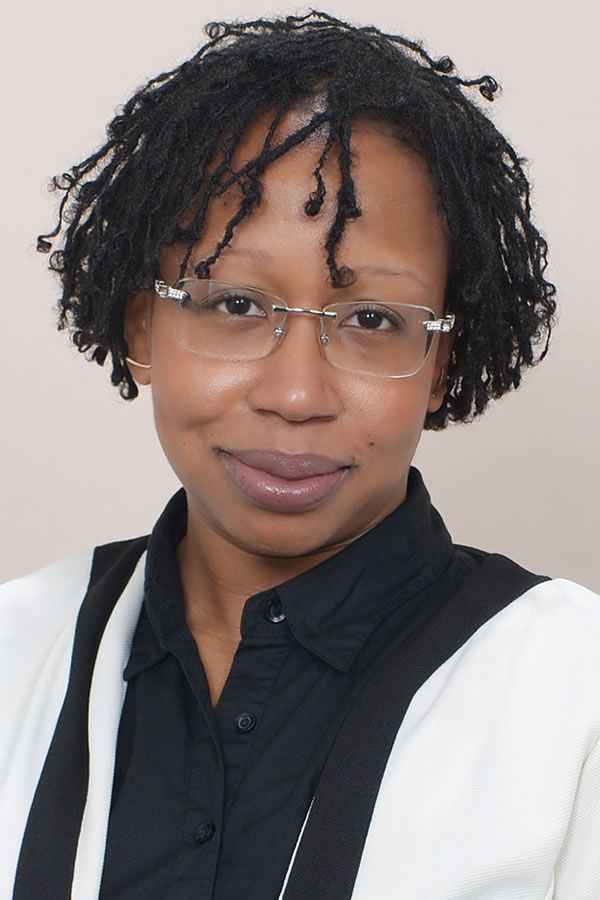 Alexis enjoys helping people, point blank! She was first called into the helping professions fresh out of college when her career began as an advocate for people with developmental disabilities. Later on, Alexis assisted with running a program for disenfranchised youth funded by New York City's Department of Youth and Community Development. When she noticed a disparity in the number of youths of color versus caucasian students who had been referred to her as a result of being placed in special education, Alexis became curious and wanted to learn more!
As a result of her curiosity, she decided to attend graduate school and became a certified school psychologist. After obtaining her graduate degree, she began working in residential settings with developmentally disabled adults who were dually diagnosed. She also gained the opportunity to work with autistic and developmentally delayed toddlers through early intervention and then with school aged children at an elementary school.
After acquiring all of the aforementioned experience, Alexis was recently privileged with undergoing a gradual spiritual awakening which led her to begin working with her beloved ancestors. It was through this spiritual work that she received the divine guidance and inspiration, in her dreams, to attend school for hypnotherapy. Alexis was informed via spirit that she should dedicate her life to spirituality and that hypnotherapy would be a way for her to do so.
Thus far, Alexis believes that spirit has steered her in an amazingly exciting direction. In fact, her spiritual journey is held so close to her heart that she often states "I wouldn't trade this journey in for the world. It's wonderful how many lives I've touched with hypnotherapy, from the young to the old, everyone seems to benefit from this modality. I am genuinely able to help people which makes me feel great as a person and grateful to be of service!"
---
Hypnotherapy Specialties
Assertiveness
Attitude Adjustment
Career Success
Chronic Pain
Communication
Insecurity
Motivation
Overeating
Perfectionism
Performance Anxiety
Public Speaking
Reach Goals
Relationship Enhancement
Relaxation
Self Awareness
Self Esteem
Self Expression
Self Hypnosis
Sleep Disorders
Stage Fright
---
Experience
Truth be told, Alexis has been helping people since childhood. One could often find her lending a listening ear to her classmates, friends, and family as well as random strangers who sensed that she could be a shoulder to cry on when no one else would listen. Alexis is someone who makes others feel safe, and she believes that this is the reason she attracts people who not only need help but are willing and able to do the work to improve their lives.
Across both professions, school psychology and hypnotherapy, Alexis has helped people ranging in ages from 2-70. She has extensive experience in behavior management and working with people who have developmental disabilities as a school psychologist and has utilized various methods such as meditation, deep breathing, visualization, brief solutions-based therapy, cognitive behavioral strategies, and motivational interviewing to assist those in need. As a hypnotherapist, Alexis assists professionals such as actors, nurses, and, yes, even military ops personnel with gaining the confidence needed to conquer demanding job interviews, auditions, fear of public speaking, barriers to attaining desired employment, promotions, certifications, etc.
Although she owns a private practice called Alexis Hines Hypnosis, Alexis also owns a resume writing service called Prosperity Designs Hand Made Resumes by A.X.H. This service enables her to combine a love for professional writing with hypnotherapy. With Alexis, clients have benefited from working on the following: job interview preparation combined with hypnosis; desensitizing fears related to criticisms and rejection while on the job market and during auditions; reducing the fear of panel discussions, group interviews, auditions, and other public speaking engagements; learning self-hypnosis to enable motivation; actualizing career and business goals; engaging in self-care; creating a work life balance; bettering interpersonal communication at home and at work; and developing a growth mind set.
---
Education
M.S. in School Psychology




Touro College


Date Started: 09/01/2012 - Date Graduated: 06/01/2016
Total Years: 4

Diploma in Clinical Hypnotherapy




Hypnosis Motivation Institute

- Nationally Accredited College of Hypnotherapy - 818-758-2700
Date Started: 08/18/2020 - Date Graduated: 12/08/2021
Total Hours: 720 - Total Weeks: 52 - Total Years: 1
---
Continuing Education from the American Hypnosis Association
Advanced Advertising and Promotion

- 03/2021

Aging Well: Staying Sharp with Hypnotherapy

- 07/2021

Body Syndromes

- 01/2021

Build and Enhance your Hypnotherapy Practice with Group Hypnosis

- 07/2021

Business Basics: Tools to Get, Retain and Help More Clients

- 12/2021

Cheryl O'Neil/Anthony - Grief

- 09/2021

Cheryl O'Neil/April - Confidence for Auditions

- 09/2021

Cheryl O'Neil/Justine - Stop Smoking

- 09/2021

Cheryl O'Neil/Linda - Weight Loss, Mend Broken Heart

- 09/2021

Cheryl O'Neil/Patrick - Motivation for Writing Novel

- 10/2021

Elaine Perliss/Beverly - Claustrophobia

- 10/2021

Elaine Perliss/Carla - Fear of Flying

- 03/2021

Elaine Perliss/Jane - Improve Willpower

- 10/2021

Elaine Perliss/Joe - Curious About Hypnosis

- 10/2021

Elaine Perliss/Julia - Gaining Control

- 10/2021

Elaine Perliss/Mary - Stop Smoking

- 09/2021

Elaine Perliss/Nataly - Obsessive Compulsive Disorder (OCD)

- 10/2021

Elaine Perliss/Shane - Test Taking Anxiety

- 10/2021

Emotional Resiliency and the Actor

- 12/2021

Ericksonian Hypnosis and Therapeutic Metaphors

- 12/2021

First Three Hypnosis Sessions

- 10/2021

Getting Comfortable with Silence

- 12/2021

Helping Hypnotherapy Clients with Driving Anxiety

- 07/2021

Hypnosis in History

- 08/2020

Introduction to Applied Suicide Intervention Skills Training (ASIST)

- 07/2021

Introduction to Professional Podcasting

- 07/2021

Intuitive and Energy Healing

- 01/2021

John McCarthy/Belinda - Bad Eating Habits

- 10/2021

John Melton/Genevieve - Trypophobia - Fear of Seeing Small Holes - Session 1 of 6

- 11/2021

John Melton/Genevieve - Trypophobia - Fear of Seeing Small Holes - Session 2 of 6

- 11/2021

John Melton/Karen - Fear of Learning to Swim

- 10/2021

John Melton/Logan - Emotions

- 10/2021

John Melton/Todd - Anxiety and Panic Attacks

- 10/2021

Kappasinian Hypnosis

- 02/2021

Lisa Machenberg/Aaron - Starting a Business

- 09/2021

Lisa Machenberg/Anniko - Stress Management

- 10/2021

Lisa Machenberg/Carissa - School Anxiety, Relationship

- 10/2021

Lisa Machenberg/Carol - Attracting the Right Relationship

- 10/2021

Lisa Machenberg/Diane - Driving Anxiety

- 10/2021

Lisa Machenberg/Harrison - Family Trauma

- 10/2021

Lisa Machenberg/Jay - Creativity and Focus

- 10/2021

Lisa Machenberg/Joey - Sports Performance

- 10/2021

Lisa Machenberg/Katie - Attracting the Right Relationship

- 10/2021

Lisa Machenberg/Lauree - Stop Smoking

- 10/2021

Lisa Machenberg/Mary - Weight Loss and Eating Habits

- 10/2021

Lisa Machenberg/Melanie - Depression and Overeating

- 10/2021

Lisa Machenberg/Nicci - Motivation After Divorce

- 10/2021

Lisa Machenberg/Robert - Hyper Vigilance and Anxiety

- 10/2021

Lisa Machenberg/Wendy - Smoking Cessation

- 10/2021

Lisa Machenberg/Yuki - Cheek Biting Habit

- 10/2021

Making Fast and Permanent Change

- 12/2021

Making the Unconscious Conscious

- 12/2021

Marc Gravelle/Chuck - Self-Defeating Attitude

- 10/2021

Marc Gravelle/Eva - Improve Focus, Insomnia

- 09/2021

Marc Gravelle/Ian - Learning Focus and Organization

- 09/2021

Marc Gravelle/Karen - Rebellious with Authority

- 10/2021

Marc Gravelle/Karen - Weight Loss and Career Guidance

- 03/2021

Marc Gravelle/Kenny - Self Confidence

- 10/2021

Marc Gravelle/Laura - Stop Smoking and Driving Anxiety

- 09/2021

Marc Gravelle/Lucretia - Weight Loss and Accepting Success

- 09/2021

Marc Gravelle/Magdalena - Stage and Audition Confidence

- 11/2021

Marc Gravelle/Marc - Focus to Become a Faith Healer

- 10/2021

Marc Gravelle/Maureen - Stop Smoking

- 11/2021

Marc Gravelle/Rachel - Relationship Strategies, Fear of Dogs

- 11/2021

Marc Gravelle/Regina - Fear of Flying

- 11/2021

Marc Gravelle/Richard - Procrastination While Writing

- 11/2021

Marc Gravelle/Tatiana - Self Confidence, Achieving Goals

- 11/2021

Michele Guzy/Barbara - Animal Communication

- 10/2021

Michele Guzy/Diego - Procrastination

- 03/2021

Michele Guzy/Jessica - Motivation for Writing

- 10/2021

Michele Guzy/John - Self-Confidence and Meeting New People

- 10/2021

Michele Guzy/Suzanne - Weight Loss

- 11/2021

NLP: Principles and Strategies of Success

- 12/2021

Sacred Breath and the Human Potential

- 12/2021

Spoon Bending - Come to the PK Party!

- 12/2021

Super Power Style: Dressing with Intention

- 07/2021

Superbrain Yoga and Pranic Healing

- 01/2021

Tanya Nord/Katie - Foreign Language Difficulties

- 10/2021

Tanya Nord/Laala - Career Focus and Confidence

- 11/2021

Tanya Nord/Melody - Test Anxiety

- 11/2021

Tanya Nord/Vivian - Motivation in Career

- 11/2021

Tapping the Subconscious through Conversational Hypnosis

- 07/2021

Teens - Managing Stress in this Fast-Paced Competitive World

- 12/2021

The Decision Factor

- 12/2021

The Power of Releasing Guilt and Shame

- 08/2021

Transcendent Aspects of the Human Experience

- 07/2021

Uplifting Depression - How Hypnotherapy Can Help

- 07/2021

Wisdom of the Body-Mind in Hypnotherapy

- 10/2021
---
Certifications
Certified Hypnotherapist


American Hypnosis Association - 818-758-2700
Certification Number: 011970
Certification Valid To: Dec 15, 2023
---
Certifications from the American Hypnosis Association
Healing the Inner Child

- 03/2021

Hypnosis and ADHD

- 04/2021

Hypnosis and Childbirth

- 04/2021

Hypnosis and Pain Management

- 08/2021

Hypnosis and Sports Performance

- 07/2021

Past-Life Regression Therapy

- 04/2021

Trauma Recovery Hypnosis

- 04/2021
---
Professional Memberships
American Hypnosis Association


Member Since: 2021

Hypnotherapists Union Local 472


Member Since: 2021

American Chronic Pain Association


Member Since: 2021
---
Website
Alexis Hines Hypnosis
https://alexishineshypnosis.com/
---
Languages Spoken
---
Contact Information
Alexis Hines
Alexis Hines Hypnosis
Brooklyn, New York 11249, United States
646-770-2059