Biography for
Ali Sotoodeh

,

CHt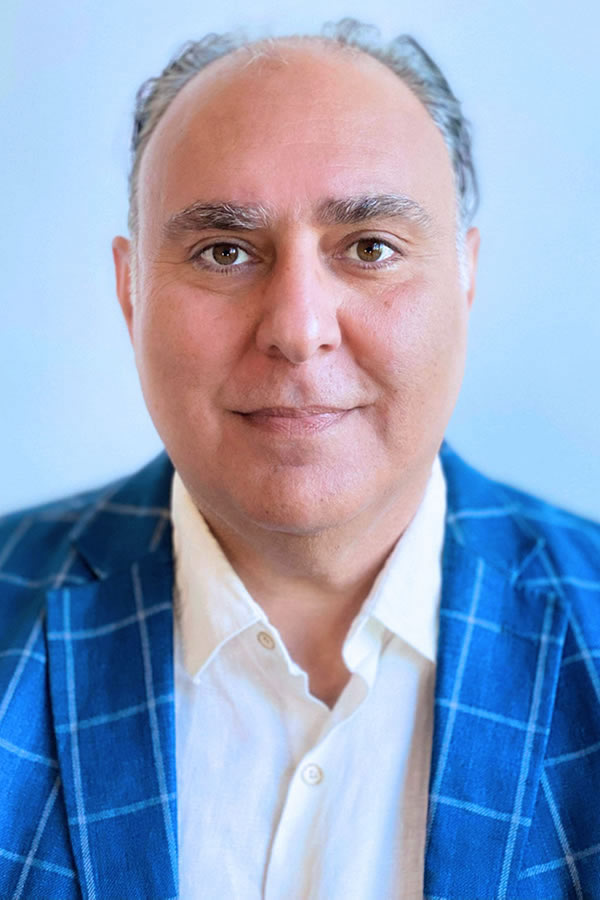 Ali Sotoodeh is an Honors Graduate from the Hypnosis Motivation Institute with the prestigious Director's Award. Along with his certifications in Imagery, Pain Management, Past life Regression, Smoking Cessation and numerous others from HMI, he holds certifications in Neuro-Linguistic Programming, Success and Life Coach, and EFT from the International Board of Coaches and Practitioners. He is also a Master Reiki, Spiritual and Chakra Healer, and Motivational Speaker.
Ali Sotoodeh graduated from UC Berkeley in 1991 with a BA in Architecture and then attended SCI-Arc for his Masters in Architecture. From 1996, Ali endeavored in many entrepreneurial roles including Founder and CEO of a .com; Furniture Manufacturing and Retail in Beverly Hills; a Technical Trader and Analyst; Author of "Mindful Trading Systems" book utilizing Elliott Wave Theory and combining it with theory of Mindfulness in the FOREX exchange markets; etc… until he could not ignore his calling anymore.
Ali's spiritual journey started with some of the greatest leaders in the realm of psychology and spirituality. Combining years of research, awakening, and enlightenment with practical scientific application, proven methods and tools to facilitate a new holistic approach to therapy and transformational learnings, Ali's mission is to provide clients with a way to overcome limiting beliefs, traumas and addictions, so that they may become self-empowered. Leading, like a beacon of light, those ready to transform their lives, to realize their own true potential to bring back the magic, joy, love and the trust for life. In turn, they can be that beacon of light for others.
He has been extended the honor to join Hypnosis Motivation Institute as an Associate Instructor in 2021.
Ali is also working with several Dental Groups in the Los Angeles area as their in-house Hypnotherapist, helping clients with all dental fears and phobias, pain management, and recovery. Ali now has a thriving practice in Los Angeles where he is helping his clients transform their lives.
---
Hypnotherapy Specialties
Abandonment
Addictions
Anxiety
Body Image
Breathing
Change Habits
Fears
Guilt
Motivation
Passive-Aggressive
Past Life Regression
Phobias
Relaxation
Self Defeating Behaviors
Self Mastery
Sleep Disorders
Stop Smoking
Stress
Trauma
Weight Loss
---
Education
Diploma in Clinical Hypnotherapy with Honors




Hypnosis Motivation Institute

- Nationally Accredited College of Hypnotherapy - 818-758-2700
Date Started: 09/24/2019 - Date Graduated: 10/21/2020
Total Hours: 720 - Total Weeks: 52 - Total Years: 1

Masters in Architecture




Sci-Arc

- 213-613-2200
Date Started: 09/01/1994 - Date Graduated: 06/01/1996
Total Years: 2

BA in Architecture




UC Berkeley

- 510-642-6000
Date Started: 07/01/1988 - Date Graduated: 06/07/1991
Total Years: 3
---
Continuing Education from the American Hypnosis Association
5 Powerful Ways to Launch, Market, and Grow Your Hypnotherapy Practice

- 11/2019

Advanced Advertising and Promotion

- 12/2019

Aging Well: Staying Sharp with Hypnotherapy

- 02/2020

Body Syndromes

- 11/2019

Build and Enhance your Hypnotherapy Practice with Group Hypnosis

- 02/2020

Business Basics: Tools to Get, Retain and Help More Clients

- 02/2020

Cheryl O'Neil/April - Confidence for Auditions

- 01/2020

Cheryl O'Neil/Justine - Stop Smoking

- 02/2020

Cheryl O'Neil/Linda - Weight Loss, Mend Broken Heart

- 02/2020

Cognitive Behavioral Therapy and Hypnosis

- 11/2019

Creating Easy and Effortless Hypnosis Workshops

- 12/2019

Crystal Singing Bowls and Hypnosis

- 03/2020

Elaine Perliss/Julia - Gaining Control

- 02/2020

Elaine Perliss/Nataly - Obsessive Compulsive Disorder (OCD)

- 02/2020

Embracing Your Shadow Self

- 02/2020

Ericksonian Hypnosis and Therapeutic Metaphors

- 02/2020

Healthy Boundaries

- 02/2020

Hypnosis in History

- 09/2019

Imagery for Life Passages

- 08/2020

Important Dynamics in Creating Successful Relationships

- 02/2020

Intuitive and Energy Healing

- 10/2020

John McCarthy/Belinda - Bad Eating Habits

- 02/2020

John Melton/Logan - Emotions

- 02/2020

John Melton/Mallory - Anxiety and Lying - 1 of 6

- 02/2020

Kappasinian Hypnosis

- 01/2020

Lisa Machenberg/Carol - Attracting the Right Relationship

- 02/2020

Lisa Machenberg/Jay - Creativity and Focus

- 02/2020

Lisa Machenberg/Katie - Attracting the Right Relationship

- 02/2020

Master the Arm Raising

- 01/2020

Metaphysical Imagery

- 08/2020

Mindfulness and Hypnotherapy

- 03/2020

Mythic and Archetypal Imagery

- 08/2020

NLP: Principles and Strategies of Success

- 03/2020

Sacred Breath and the Human Potential

- 12/2019

Sigil Magic Imagery - Draw your Way to Success

- 02/2020

Social Media Marketing from Your Smartphone

- 02/2020

Spiritual Tarot: Hypnotic Applications for the Archetypes of Tarot

- 12/2019

Spoon Bending - Come to the PK Party!

- 12/2019

Superbrain Yoga and Pranic Healing

- 03/2020

Taking Positive Psychology to Corporations

- 03/2020

Tanya Nord/Vivian - Motivation in Career

- 02/2020

Tapping the Subconscious through Conversational Hypnosis

- 02/2020

The 12 Steps of AA and Hypnotherapy

- 02/2020

The Client Drought, A Shift in Perspective Can Shift Your Experience

- 02/2020

The Decision Factor

- 02/2020

The Enneagram as the Gateway to Hypnotic Trance

- 03/2020

The Insider Secret to Generating and Retaining New Clients

- 02/2020

Transcendent Aspects of the Human Experience

- 02/2020

Transformation: Tools for Changing Behavior

- 01/2020
---
Certifications
Certified Hypnotherapist


American Hypnosis Association - 818-758-2700
Certification Number: 010391
Certification Valid To: Jul 01, 2032
---
Certifications from the American Hypnosis Association
Advanced Imagery

- 08/2020

Hypnosis and Smoking Cessation

- 10/2021

Past-Life Regression Therapy

- 10/2020

Pre and Post Surgery Hypnosis

- 01/2021

Therapeutic Imagery Facilitator

- 08/2020

Therapeutic Imagery Master

- 08/2020
---
Other Certifications
Usui Ryoho Reiki - Shinpiden Reiki Master and Teacher - 10/2020
NLP (Neuro Linguistic Programming) - International Board of Coaches and Practitioners - 11/2019
Success and Life Coach - International Board of Coaches and Practitioners - 11/2019
EFT (Emotional Freedom Technique) - International Board of Coaches and Practitioners - 11/2019
---
Awards
Honors Graduate - Clinical Hypnotherapy Program


Hypnosis Motivation Institute - 10/22/2020

Director's Award


Hypnosis Motivation Institute - 10/22/2020
---
Professional Memberships
American Hypnosis Association


Member Since: 2020

Hypnotherapists Union Local 472


Member Since: 2020

International Board of Coaches and Practitioners


Member Since: 2019
---
Website
Habitual Transformation
https://HabitualTransformation.com/
---
Languages Spoken
---
Contact Information
Ali Sotoodeh
HabitualTransformation.com
Los Angeles, California 90024, United States
310-800-1878