Biography for
Dora Lucy Marin

,

CHt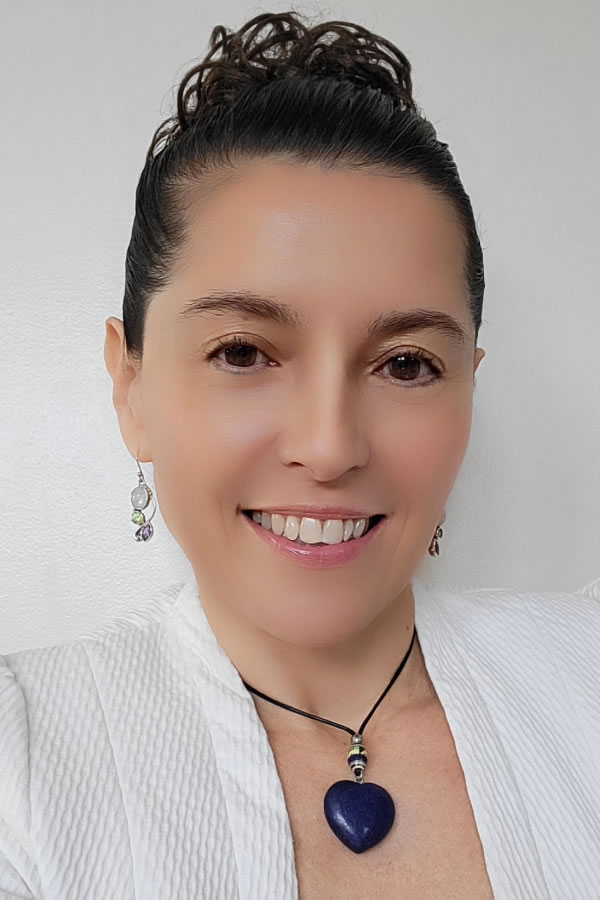 Dora Lucy is a Clinical Hypnotherapist, meditation instructor and Spanish language teacher based in Newark, Delaware.
Dora Lucy welcomes you to join her on a journey of exploration into the natural healing properties of your mind, body, and spirit. Whether you want to fulfill a personal goal or find a more fulfilling path, the therapeutic use of hypnosis, creative visualization, meditation, neuro linguistic programming (NLP) and mindfulness are the most powerful resources she knows to comfortably and efficiently assist you to achieve your goals.
As a Clinical Hypnotherapist, she is on a mission to help you become the best version of yourself by reprogramming any limiting beliefs, toxic patterns, or habits to bring awareness, fulfillment, and joy to your daily life.
She believes all people have the birth right to feel safe, empowered, cared, loved, accepted, abundant, protected, and free to be themselves to reach their highest potential. She heartedly feels we all are here on this beautiful planet to learn the art of self-love as the path for living in harmony and at peace with ourselves and others.
She has found her life's passion reaching out her hand to others on the path of personal transformation. Nothing fills her heart more than to witness a soul releasing its pain, discovering its power, and finding its purpose. That is the path she has walked, and she would welcome the opportunity to help you walk it too.
Dora Lucy is the founder of "Proyecto Ser de Luz", a transformational movement born and inspired in 2015 during one of her meditations. "Proyecto Ser de Luz" has become a community of support and inspiration helping hundreds of people to become their best version of themselves by lovingly embracing their wounded inner child, healing painful transgenerational memories, and reprogramming limiting beliefs.
As part of this project, Dora Lucy leads free group sessions in Spanish every Friday via Zoom that you are welcome to join. She also produces free meditations and creative visualizations that you can find on YouTube and Facebook under the Proyecto Ser de Luz account.
Call or message her if you would like a free phone consultation to ask questions and explore the potential of a partnership in success. All sessions are via Zoom from the comfort of your home.
---
Hypnotherapy Specialties
Abandonment
Assist Healing
Change Habits
Communication
Fears
Forgiveness
Guilt
Improve Health
Insecurity
Motivation
Past Life Regression
Reach Goals
Rejection
Relationship Enhancement
Relaxation
Self Awareness
Self Image
Self Mastery
Stop Smoking
Stress
---
Experience
Testimonials
Thanks, Dora Lucy, for helping me to improve my life, my relationship with my inner child, with myself and with my family.
Silvia
I feel much more confident. I am reaching my goal! Thanks.
Reina
Thanks Dora Lucy! I have felt a tremendous change in my inner state. I feel more confident, my fears are dissolving, and I am experiencing an increasing state of peace and tranquility.
Andrea
The new positive anchors that Dora Lucy has helped me to install have created the sense of protection and safety that my inner child was crying for, and all areas of my life have been improving magically and miraculously. Thanks!
Marleny
I am very happy because I am finally becoming a more organized, disciplined and focused person in my daily life.
Consuelo.
Dora Lucy is an excellent hypnotherapist. She is so devoted to the well being of her clients. Her hypnotherapy has been of incredible help. I could feel and see results from the first session.
Elsa
I don't crave sugar anymore! Thanks for helping me overcome my addiction of more than 30 years. It has been absolutely magical and transformational.
Ayda
I feel lighter, more confident and empowered.
Rosalba
I have managed to get to know myself and heal my inner child, which has allowed me to have a better relationship with my family and others, which fills me with deep happiness.
Sandra
---
Education
BA in Spanish and Foreign Languages




Universidad Pedagógica de Colombia


Date Started: 02/03/1997 - Date Graduated: 02/02/2001
Total Years: 4

Specialist in Teaching English as a Foreign Language




Universidad Surcolombiana

- 302-753-1450
Date Started: 02/01/1999 - Date Graduated: 02/01/2000
Total Years: 1

Master in Foreign Language Pedagogy




University of Delaware

- 302-753-1450
Date Started: 08/25/2002 - Date Graduated: 05/28/2004
Total Years: 2

Diploma in Clinical Hypnotherapy with Honors




Hypnosis Motivation Institute

- Nationally Accredited College of Hypnotherapy - 818-758-2700
Date Started: 12/15/2020 - Date Graduated: 02/18/2022
Total Hours: 720 - Total Weeks: 52 - Total Years: 1
---
Continuing Education from the American Hypnosis Association
Aging Well: Staying Sharp with Hypnotherapy

- 08/2021

Body Syndromes

- 01/2021

Cheryl O'Neil/Anthony - Grief

- 07/2021

Elaine Perliss/Julia - Gaining Control

- 07/2021

Embracing Your Shadow Self

- 01/2021

Emotional Resiliency and the Actor

- 07/2021

Ericksonian Hypnosis and Therapeutic Metaphors

- 01/2021

Ericksonian Hypnosis and Trance Phenomena

- 03/2021

First Three Hypnosis Sessions

- 11/2021

Getting Comfortable with Silence

- 07/2021

Healthy Boundaries

- 02/2021

How Forgiveness Impacts Brain Functioning

- 01/2021

Hypnosis for Past Life Regression Therapy

- 07/2021

Hypnosis in History

- 10/2020

Introduction to Professional Podcasting

- 09/2021

Intuitive and Energy Healing

- 12/2020

John Melton/Karen - Fear of Learning to Swim

- 09/2021

John Melton/Logan - Emotions

- 02/2021

John Melton/Todd - Anxiety and Panic Attacks

- 02/2021

Kappasinian Hypnosis

- 02/2021

Lisa Machenberg/Carol - Attracting the Right Relationship

- 02/2021

Making Fast and Permanent Change

- 04/2021

Making the Unconscious Conscious

- 06/2021

Michele Guzy/Diego - Procrastination

- 09/2021

NLP: Principles and Strategies of Success

- 03/2021

Research Articles Course

- 11/2021

Sacred Breath and the Human Potential

- 03/2021

Subtleties of Hypnotherapy

- 09/2021

Super Power Style: Dressing with Intention

- 09/2021

Superbrain Yoga and Pranic Healing

- 01/2022

Tanya Nord/Katie - Foreign Language Difficulties

- 02/2021

Tapping the Subconscious through Conversational Hypnosis

- 01/2021

The Enneagram as the Gateway to Hypnotic Trance

- 06/2021

The Power of Colors

- 07/2021

The Power of Releasing Guilt and Shame

- 05/2021

Transcendent Aspects of the Human Experience

- 01/2021

Uplifting Depression - How Hypnotherapy Can Help

- 08/2021

Wisdom of the Body-Mind in Hypnotherapy

- 07/2021
---
Certifications
Certified Hypnotherapist


American Hypnosis Association - 818-758-2700
Certification Number: 010615
Certification Valid To: Feb 17, 2024
---
Other Certifications
Certified Meditation Instructor
Family Constellations
Emotional Biodecoding and Transgenerational Memories
Dealing with Emotional Unavailable Partners
---
Awards
Honors Graduate


Hypnosis Motivation Institute - 02/18/2022
---
Professional Memberships
American Hypnosis Association


Member Since: 2022
---
Languages Spoken
---
Contact Information
Dora Lucy Marin
Newark, Delaware 19713, United States
302-753-1450