Biography for
Sherrie Badkoubehi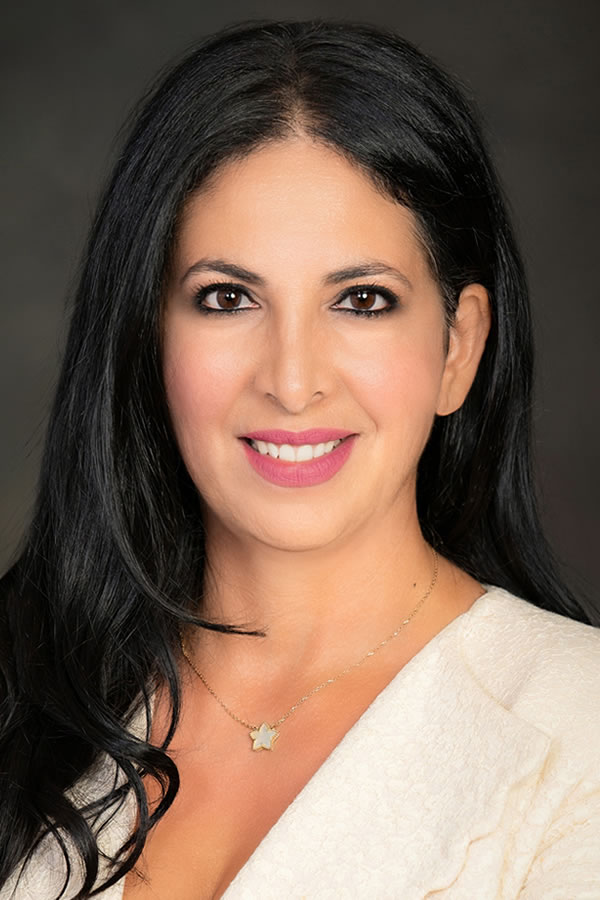 Sherrie Badkoubehi has mentored and coached individuals to live their highest potential for over 20 years. As a trainer and consultant to multi-million dollar corporations, Sherrie specialized in team building, and goal achievement by tapping into the Power of the Mind through her own personal journey she refers to as "Trauma to Dharma." Sherrie empowers individuals to achieve both personal and professional success, live in joy, free from the past, and in true connection with their life source energy.
As a Certified Hypnotherapist, Neuro-Linguistic Practitioner and Law of Attraction Transformation Coach, Sherrie utilizes powerful hypnotic techniques uniquely crafted together which result in a rise in your "Vibrational Frequency/Emotional State." She specializes in releasing limiting beliefs, negatives emotions which shift your point of attraction and place you in resonance with your desires.
Through her life-long study of metaphysics, self-discovery, and what she calls "Cosmic Attraction", Sherrie incorporates spiritual teachings, mindfulness, meditation, and guides her clients to live an abundant life of meaning. She is devoted to Conscious Connections and Conscious Parenting with a vision for all hearts to be the servant to the mind.
---
Languages Spoken
---
Hypnotherapy Specialties
Abandonment
Anxiety
Career Success
Communication
Fears
Forgiveness
Guilt
Insecurity
Motivation
Reach Goals
Rejection
Relationship Enhancement
Self Awareness
Self Confidence
Self Esteem
Self Image
Self Mastery
Shame
Stress
Trauma
---
Experience
A Certified Hypnotherapist, Sherrie graduated with Honors from the Hypnosis Motivation Institute, the first nationally accredited College of Hypnotherapy in the world. Sherrie was awarded The Director's Award, The Academic Achievement Award and the HMI Clinical Achievement Award for outstanding accomplishment during clinical residency.
Having gone through her own transformational journey, continuously reinventing herself, she shares over two decades of knowledge from the practice of Kundalini Yoga, also known as the Science of the Mind, Meditation/Breathwork for Self-Discovery and Mastery.
She believes that "Life is an Echo." – When you keep thinking the same thoughts you always have about yourself, you'll keep attracting experiences which match your inner experience. If you want to change something, first you must change your mind. Release what no longer serves you and make your life a conscious creation.
---
Education
Diploma in Clinical Hypnotherapy with Honors




Hypnosis Motivation Institute

- Nationally Accredited College of Hypnotherapy - 818-758-2747
Date Started: 04/24/2018 - Date Graduated: 05/09/2019
Total Hours: 720 - Total Weeks: 52 - Total Years: 1
---
Continuing Education from the American Hypnosis Association
Basic Emotional Freedom Technique

- Dec 2018

Drive New Business with Social Media

- Aug 2018

Healing the Child Within

- Dec 2018

Hypnosis and the Law of Attraction

- Jun 2018

Hypnosis for Anxieties and Fears

- Aug 2018

Hypnosis in History

- Apr 2018

Increase Your Profitability: Create Session Packages That Sell!

- Aug 2018

Release Baggage with Mental and Emotional Release (MER)

- Aug 2018

Release Technique

- Jun 2018

Research Articles Course

- May 2019
---
Certifications from the American Hypnosis Association
Certified Practitioner of Neuro-Linguistic Programming

- Jun 2018

Hypnosis and Smoking Cessation

- Apr 2019

Mental and Emotional Release® Therapy

- Jun 2018
---
Other Certifications
Certified Meta-Therapy of Interuniversal Consciousness
---
Awards
Honors Graduate
Hypnosis Motivation Institute - 05/09/2019
Director's Award
Hypnosis Motivation Institute - 05/09/2019
Academic Achievement Award
Hypnosis Motivation Institute - 05/09/2019
Clinical Achievement Award
Hypnosis Motivation Institute - 05/09/2019
---
Professional Memberships
American Hypnosis Association


Member Since: 2017

Hypnotherapists Union Local 472


Member Since: 2018
---
Website
Heart Brain Hypnosis
https://HeartBrainHypnosis.com/
---
Contact Information
Sherrie Badkoubehi
Woodland Hills, California 91316, United States
310-770-2452
Agoura Hills, California 91301, United States