Amazon Icon Paperback Now Available at Amazon
---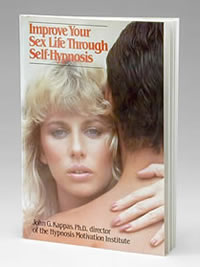 Improve Your Sex Life Through Self-Hypnosis spells out, in clear, simple language, self-hypnosis techniques that have been tested by the author in thousands of private therapy cases. Within these pages, Dr. John Kappas shows you how to focus your thoughts and forget everything but the pleasure of the moment.
He takes a fresh new look at: How crippling past experiences can cause current problems. How you can end (or avoid) such common sexual problems as premature ejaculation, impotence, lack of lubrication, and tightening of the vaginal muscles through self-hypnosis.
Complete with special questionnaire that measure your sexuality and suggestibility, Improve Your Sex Life Through Self-Hypnosis offers a practical, effective way for anyone to experience the full joy of sex. Read it today!
Publication Type
Book Type: Soft Cover
Page Count: 151
Page Size: 5.25" x 8.25"
eBook Only Details
File Type: Acrobat PDF
File Size: 1.4 MB
Page Count: 194
Page Size: 6.00" x 9.00"