Amazon Icon Spiral Bound Ledger Now Available at Amazon
---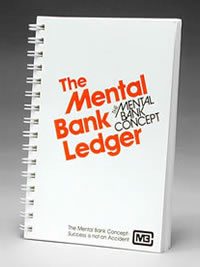 The Mental Bank Ledger is the workbook that accompanies the self-improvement program outlined in the text "Success Is Not An Accident: The Mental Bank Concept."
The Mental Bank Ledger also accompanies the Mental Bank video/DVD instruction course as well as the live presentation of the Mental Bank Program.
The Mental Bank Ledger is easy to use and a must for the effortless application of the Mental Bank Program.
For those utilizing the powerful Mental Bank Program, the Mental Bank Ledger is their nightly companion and partner is success.
Soft Cover 175 Pages
---
Start Your Mental Bank INSTANTLY with the Online Mental Bank Ledger
Perfect for people who use a keyboard more than they use a pen and paper.
Automatically does all the math.
Daily text or email reminders.
Review your history at a glance.
Works on Desktops, Tablets or iPads.
Includes Dr. Kappas' Downloadable eBook – Success is not an Accident.
The Mental Bank Ledger Online
Application $39.00 USD