Amazon Icon Paperback Now Available at Amazon
---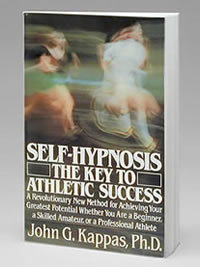 Now you can improve your athletic skills whether you are a beginner, a skilled amateur, or a professional. Here's a book to help you be the best athlete you can be - through self-hypnosis!
Self-Hypnosis: The Key to Athletic Success teaches you the self-hypnosis techniques that will help you develop the same confidence and motivation that enable professional athletes to achieve their peak performances.
The author, a practicing hypnotherapist who has helped thousands of top athletes, reveals that simple will power is not enough; you must learn to get in touch with the inner resources that determine your motivation and performance. In these pages, you'll learn to do just that - with a clear, easy-to-follow program that works for any and all sports!
If you're a professional athlete striving to achieve your fullest potential, or just a weekend golfer or jogger interested in improving your score or your mileage, this book will get you in touch with a source of strength and excellence you never knew you had!
Publication Type
Book Type: Soft Cover
Page Count: 186
Page Size: 5.25" x 8.25"
eBook Only Details
File Type: Acrobat PDF
File Size: 1.0 MB
Page Count: 222
Page Size: 6.00" x 9.00"