Biography for
Jeremiah J. Wolfe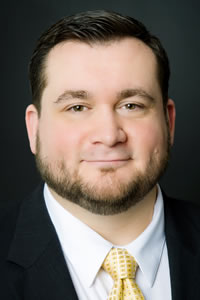 In 1998, Jeremiah became interested in the subconscious mind as he began to see powerful changes in his own life through his meditation and intention practices. Through personal study he became convinced that the pageantry and secrecy surrounding many of the more esoteric belief systems, while effective in creating positive change, were really just tools for accessing the subconscious mind. This new philosophy lead Jeremiah to hypnosis. Initially self-taught and working with family and friends Jeremiah's suspicions were confirmed and he redoubled his study and experimentation with this amazing tool.
Eventually, after several years of practice and experimentation, Jeremiah felt the time was right to seek a more structured education before turning this hobby of hypnosis into a profession. He sought out a reputable, high quality training program and in 2006 Jeremiah achieved the title of Certified Hypnotherapist in Transpersonal Hypnotherapy and founded Therapeutic Journeys, LLC.
Later Jeremiah began to feel that his education of primarily Ericksonian and NLP hypnotic techniques grounded in Transpersonal Psychology was, while effective, not living up to the true potential of what hypnosis had to offer. This recognition lead to more searching and eventually to the work of the late Dr. John Kappas.
Kappasinian Hypnosis was a complete game changer for me. Most hypnotists are successful with fifty or so percent of their clients. The rest they term as 'resistant' and write them off. Kappasinian Hypnosis teaches that there are no resistant clients, only therapists who are inflexible communicators. What I've learned has opened a whole new world of helping people, more specifically helping my clients to help themselves. It's just amazing.
Jeremiah Wolfe
Today, with over a decade and a half of experience Jeremiah continues to be awestruck by the power of hypnotherapy to bring lasting positive change to peoples lives.
---
Languages Spoken
---
Hypnotherapy Specialties
Anxiety
Career Success
Past Life Regression
Relationship Enhancement
Stop Smoking
---
Education
Diploma in Clinical Hypnotherapy




Hypnosis Motivation Institute

- Nationally Accredited College of Hypnotherapy - 818-758-2730
Date Started: 01/01/2013 - Date Graduated: 03/26/2013
Total Hours: 300 - Total Weeks: 52 - Total Years: 1

Diploma in Hypnotherapy




Hypnosis Motivation Institute

- Nationally Accredited College of Hypnotherapy - 818-758-2747
Date Started: 01/03/2013 - Date Graduated: 03/27/2013
Total Hours: 300 - Total Weeks: 52 - Total Years: 1

Diploma in Hypnotherapy




Transpersonal Hypnotherapy Institute

- 303-278-9585
Date Started: 06/01/2005 - Date Graduated: 06/01/2006
Total Hours: 300 - Total Weeks: 52 - Total Years: 1
---
Continuing Education from the American Hypnosis Association
Basic Emotional Freedom Technique

- Sep 2013

Explode Your Practice with Phone and Skype Sessions

- Mar 2017

First Three Hypnosis Sessions

- Apr 2013

How to Give a Dynamic Hypnosis Speech

- May 2014

Imagery for Life Passages

- May 2017

Metaphysical Imagery

- May 2017

Mythic and Archetypal Imagery

- May 2017

Rapid and Instant Inductions

- May 2014

Stage Hypnosis

- May 2014
---
Certifications
Certified Master Hypnotist
Hypnotherapists Union Local 472 - 818-659-8687
Certification Number: 9569651
Certification Valid To: Jan 26, 2021
---
Certifications from the American Hypnosis Association
Advanced Imagery

- May 2017

Hypnosis and ADD-ADHD

- Jan 2018

Hypnosis and Pain Management

- Feb 2015

Hypnosis and PTSD

- Apr 2018

Past-Life Regression Therapist

- Apr 2013

Smoking Cessation

- Apr 2013

Therapeutic Imagery Facilitator

- May 2017

Therapeutic Imagery Master

- Jun 2017
---
Professional Memberships
Association for Transpersonal Psychology and Hypnotherapy


Member Since: 2006

American Hypnosis Association


Member Since: 2013

International Hypnosis Federation


Member Since: 2006

Hypnotherapists Union Local 472


Member Since: 2013
---
Contact Information
Jeremiah J. Wolfe
Therapeutic Journeys, LLC
Columbus, Ohio 43235, United States
614-547-3381