Biography for
Max Golden

,

CHt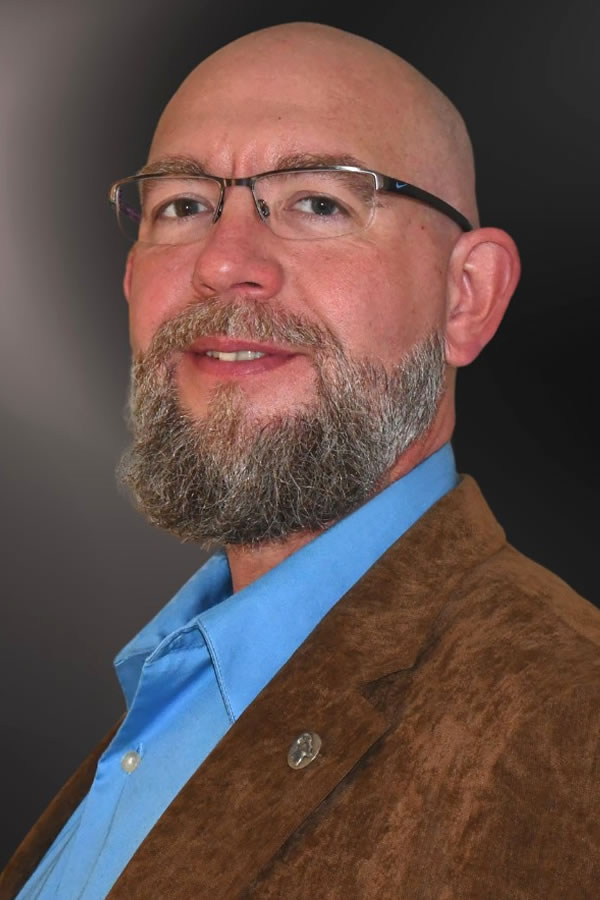 Max is a Certified Hypnotherapist, Neuro-Linguistic Programmer, Life Coach, and member of the American Hypnosis Association. Having earned a Diploma in Clinical Hypnotherapy from the Nationally Accredited Hypnosis Motivation Institute (HMI), with over 720 hours of interactive instruction, and years of dedicated study.
Max actively upgrades his skill set through continuing education from several academic institutions. Max also holds over fifty professional certifications (686+ hours of instruction) including: Hypnosis for Pain Management, Smoking Cessation, Weight Management, Hypnosis for Fears and Anxieties, EFT, Advanced Handwriting Analysis, and Metaphysical Imagery.
Max has been a lifelong scholar of various philosophies, religions, and sciences. This broad knowledge of differing points of view has led him to the realization that the myriad of practices and techniques utilized by these seemingly incompatible disciplines, all have at their core, the exact same goal: to bring the individual or group closer to perceived perfection. It is with this understanding that he crafts the unique tools of his practice. His desire, like that of sages, mystics, and scientists throughout the ages, is to provide the tools for each person, and humanity as a whole, to bring themselves to a heightened state of excellence.
To this end he uses various modalities, technologies, teachings, and techniques to assist his clients in expanding their conscious perception, exploring their subconscious programming, enhancing their natural abilities, and empowering their will to exceed beyond all limitations; emancipating them to manifest the fully satisfying lives they truly desire, thus evolving humanity towards a more pleasurable reality.
---
Hypnotherapy Specialties
Attitude Adjustment
Change Habits
Lack of Direction
Reach Goals
Self Confidence
Self Hypnosis
Self Mastery
---
Experience
Max has used his abilities to overcome being a decades long smoker (started pre-teen/quit age 36), lose 50 pounds, become a marathon runner, and maintain this healthier lifestyle for over a decade.
Max also has experience in many high stress fields such as; Food Service (Restaurant Owner/Kitchen Manager), Appliance and Electronic Repair (Owner/Technician), Over The Road Truck Driving (Team Driving Expedited Freight with Wife/Co-Driver), and Distribution Chain Associate. These differing employment environments provide Max with a thorough understanding of a variety of workplace issues and stressors.
---
Education
Diploma in Clinical Hypnotherapy with Honors




Hypnosis Motivation Institute

- Nationally Accredited College of Hypnotherapy - 818-758-2700
Date Started: 08/18/2020 - Date Graduated: 08/12/2021
Total Hours: 720 - Total Weeks: 52 - Total Years: 1
---
Continuing Education from the American Hypnosis Association
5 Powerful Ways to Launch, Market, and Grow Your Hypnotherapy Practice

- 11/2020

Advanced Advertising and Promotion

- 11/2020

Advanced Emotional Freedom Technique

- 08/2022

Aging Well: Staying Sharp with Hypnotherapy

- 12/2020

Basic Emotional Freedom Technique

- 03/2022

Body Syndromes

- 10/2020

Body/Mind Imaging - Creating Powerful, Personal Presence

- 10/2020

Build and Enhance your Hypnotherapy Practice with Group Hypnosis

- 11/2020

Business Basics: Tools to Get, Retain and Help More Clients

- 11/2020

Cancer: The Path of Diagnosis to Hypnosis

- 12/2020

Clearing up Traumas at the Energy Level

- 11/2020

Clinical Case History Package 1

- 08/2021

Cognitive Behavioral Therapy and Hypnosis

- 11/2020

Creating Easy and Effortless Hypnosis Workshops

- 11/2020

Crystal Singing Bowls and Hypnosis

- 11/2020

Embracing Your Shadow Self

- 10/2020

Ericksonian Hypnosis and Therapeutic Metaphors

- 09/2020

Ericksonian Hypnosis and Trance Phenomena

- 09/2020

Ethics and Boundaries for California Therapists

- 11/2020

Explode Your Practice with Phone and Skype Sessions

- 11/2020

First Three Hypnosis Sessions

- 10/2019

Getting Comfortable with Silence

- 11/2020

Healing Developmental Trauma and Adaptation with Hypnosis

- 12/2020

Healthy Boundaries

- 11/2020

Help Your Clients Overcome Writer's Block

- 11/2020

Helping Hypnotherapy Clients with Driving Anxiety

- 11/2020

How Forgiveness Impacts Brain Functioning

- 12/2020

How Not to Give into Naysayers

- 11/2020

Hypnosis and Anxiety

- 11/2020

Hypnosis and Weight Loss Part 2

- 05/2022

Hypnosis in History

- 06/2019

Hypnotic Remedies for Three Productivity Poisons

- 11/2020

Important Dynamics in Creating Successful Relationships

- 12/2020

Intimate Conversations with Dr. John Kappas

- 07/2021

Intuitive and Energy Healing

- 09/2020

Is it Intuition, or is it NLP?

- 10/2020

Kappasinian Hypnosis

- 09/2020

Make Anxiety Your Best Friend

- 11/2020

Making the Unconscious Conscious

- 10/2020

Marketing Mastery - The Basics of Building your Practice

- 11/2020

Metaphysical Imagery

- 08/2020

Michele Guzy/John - Self-Confidence and Meeting New People

- 10/2020

Mindfulness and Hypnotherapy

- 11/2020

Mythic and Archetypal Imagery

- 04/2023

NLP: Principles and Strategies of Success

- 10/2020

Rapid and Instant Inductions

- 04/2021

Research Articles Course

- 07/2021

Sacred Breath and the Human Potential

- 10/2020

Say What?! Using Radio, TV, Writing and Talks to Build Your Practice

- 11/2020

Sigil Magic Imagery - Draw your Way to Success

- 10/2020

So you want to write a book?!

- 11/2020

Social Media Marketing from Your Smartphone

- 11/2020

Spiritual Tarot: Hypnotic Applications for the Archetypes of Tarot

- 10/2020

Spoon Bending - Come to the PK Party!

- 11/2020

Stage Hypnosis

- 09/2020

Stress Relief Techniques

- 11/2020

Subtleties of Hypnotherapy

- 08/2021

Super Power Style: Dressing with Intention

- 05/2021

Superbrain Yoga and Pranic Healing

- 11/2020

Taking Positive Psychology to Corporations

- 12/2020

Tapping the Subconscious through Conversational Hypnosis

- 10/2020

Teens - Managing Stress in this Fast-Paced Competitive World

- 12/2020

The 12 Steps of AA and Hypnotherapy

- 11/2020

The Basic Understanding and Principles of NLP

- 10/2020

The Client Drought, A Shift in Perspective Can Shift Your Experience

- 11/2020

The Decision Factor

- 11/2020

The Empty Leash - Hypnosis and the Loss of a Beloved Pet

- 12/2020

The Enneagram as the Gateway to Hypnotic Trance

- 10/2020

The Gifts of Trauma

- 11/2020

The Incredible Power of the Mind/Body Connection

- 10/2020

The Insider Secret to Generating and Retaining New Clients

- 11/2020

The Power of Colors

- 10/2020

Therapeutic Creative Journaling

- 11/2020

Transcendent Aspects of the Human Experience

- 11/2020

Transformation: Tools for Changing Behavior

- 11/2020

Uplifting Depression - How Hypnotherapy Can Help

- 12/2020

Working with Children and Children on the Autism Spectrum

- 12/2020
---
Certifications
Certified Hypnotherapist


American Hypnosis Association - 818-758-2700
Certification Number: 010503
Certification Valid To: Apr 24, 2024
---
Certifications from the American Hypnosis Association
Advanced Handwriting Analysis

- 07/2022

Certified Practitioner of Neuro-Linguistic Programming

- 02/2022

Hypnosis and Pain Management

- 05/2020

Hypnosis and Sports Performance

- 07/2021

Hypnosis and Weight Loss

- 04/2022

Hypnosis for Anxieties and Fears

- 04/2020

Mental and Emotional Release® Therapy

- 02/2022

Past-Life Regression Therapist

- 03/2022

Smoking Cessation

- 08/2021
---
Awards
Honors Graduate - Clinical Hypnotherapy Program


Hypnosis Motivation Institute - 08/12/2021
---
Professional Memberships
American Hypnosis Association


Member Since: 2020
---
Website
Max Golden Hypnosis
https://www.MaxGoldenHypnosis.com/
---
Languages Spoken
---
Contact Information
Max Golden
Max Golden Hypnosis
Peru, Illinois 61354, United States