Biography for
Vivek Dewan

,

CHt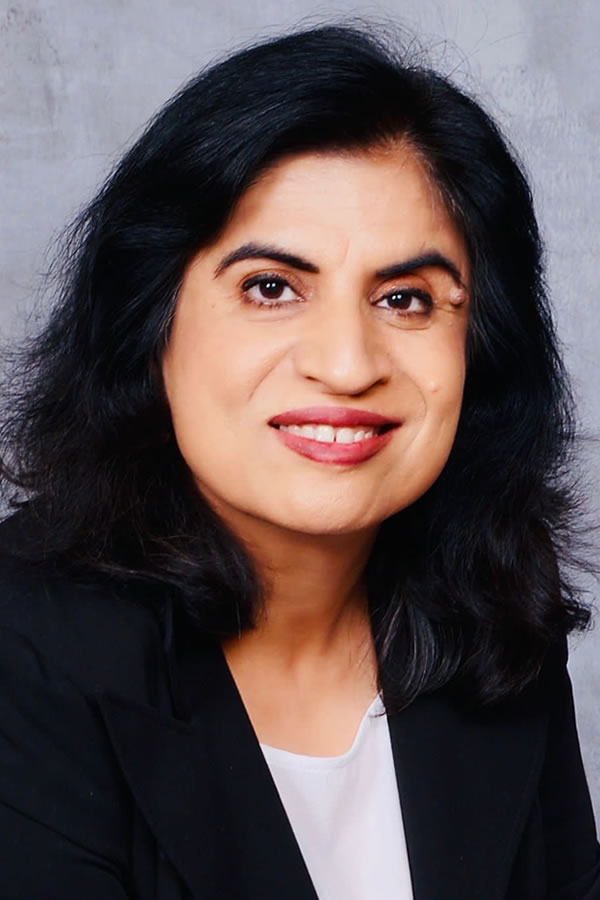 Vivek is an Honors Graduate of the Hypnosis Motivation Institute, the first Nationally Accredited College of Hypnotherapy. She now offers sessions on the Zoom platform and seeing hypnotherapy clients from around the world. Her life purpose and practice are to add values of alternative healing, holistic health, and self-empowerment and support for her clients in an atmosphere of empathy, compassion and professionalism.
Additionally, she is practitioner of meditation, spiritual science and specializes in past life regression therapy, inner child work, NLP, mind body-spirit Integration and motivational speaker. She uses a holistic approach in therapy, paying attention to her client's mind, body, heart, and soul.
Vivek's love of helping others manifest their personal goals is apparent in her empathetic and creative abilities to think outside the box when guiding her clients to their stated life goals. She is genuine in her interest in her clients, knows how to listen, and tailors her sessions to her clients' personal comfort.
She specializes in helping clients to break through limiting beliefs and help to break patterns that are leaving them stuck in unwanted situations. She has a deep sense of compassion and understanding for others, and a strong commitment to assist her clients in accomplishing their goals and attracting what it is they truly desire in life. Her passion is helping clients to create more peace, contentment, health, joy, vitality, success, and happiness.
She is a member of the American Hypnosis Association (AHA), and the Hypnotherapists Union Local 472 since 2021.
---
Hypnotherapy Specialties
Anxiety
Change Habits
Creativity
Forgiveness
Guilt
Helplessness
Motivation
Past Life Regression
Procrastination
Reach Goals
Relationship Enhancement
Relaxation
Resistance
Resistance to Change
Self Awareness
Self Esteem
Self Forgiveness
Self Hypnosis
Self Image
Worry
---
Experience
As a Certified Hypnotherapist, Vivek draws on her own personal experience with using many healing modalities and tools that helped her overall life. She discovered hypnotherapy to be a pathway to self realization and fell in love with hypnosis during her own journey of self-improvement.
In addition to her extensive hypnotherapy related training, she has a Masters Degree in Fine Arts – Drawing and Painting, and loves making Mandala art. She has worked in travel and hospitality, information technology, and customer service relationship for numerous years, all of which have served to help her understand and successfully work with people of a variety of personal backgrounds and professions.
---
Education
Diploma in Clinical Hypnotherapy with Honors




Hypnosis Motivation Institute

- Nationally Accredited College of Hypnotherapy - 818-758-2747
Date Started: 02/23/2021 - Date Graduated: 04/07/2022
Total Hours: 720 - Total Weeks: 52 - Total Years: 1
---
Continuing Education from the American Hypnosis Association
5 Powerful Ways to Launch, Market, and Grow Your Hypnotherapy Practice

- 12/2021

Advanced Advertising and Promotion

- 06/2021

Body Syndromes

- 04/2021

Build and Enhance your Hypnotherapy Practice with Group Hypnosis

- 08/2021

Cheryl O'Neil/Anthony - Grief

- 07/2021

Cheryl O'Neil/April - Confidence for Auditions

- 07/2021

Cheryl O'Neil/Justine - Stop Smoking

- 10/2021

Cheryl O'Neil/Linda - Weight Loss, Mend Broken Heart

- 10/2021

Cheryl O'Neil/Patrick - Motivation for Writing Novel

- 10/2021

Cognitive Behavioral Therapy and Hypnosis

- 04/2022

Creating a Professional Zoom Room

- 06/2021

Crystal Singing Bowls and Hypnosis

- 12/2021

Dr. Kappas Atlanta Series

- 07/2021

Elaine Perliss/Beverly - Claustrophobia

- 10/2021

Elaine Perliss/Carla - Fear of Flying

- 11/2021

Elaine Perliss/Jane - Improve Willpower

- 11/2021

Elaine Perliss/Joe - Curious About Hypnosis

- 11/2021

Elaine Perliss/Julia - Gaining Control

- 11/2021

Elaine Perliss/Mary - Stop Smoking

- 11/2021

Elaine Perliss/Nataly - Obsessive Compulsive Disorder (OCD)

- 11/2021

Elaine Perliss/Shane - Test Taking Anxiety

- 02/2022

Emotional and Physical Sexuality 1

- 08/2021

Explode Your Practice with Phone and Skype Sessions

- 12/2021

First Three Hypnosis Sessions

- 10/2021

Getting Comfortable with Silence

- 08/2021

Healthy Boundaries

- 02/2022

Hypnosis and Anxiety

- 12/2021

Hypnosis for Past Life Regression Therapy

- 07/2021

Hypnosis in History

- 01/2021

Imagery for Life Passages

- 05/2022

Integrative Depth Psychology and Psychotherapy: Clinical Application

- 08/2021

Introduction to Positive Psychology

- 08/2021

Introduction to Somatic and Parts Work for Healing Trauma

- 08/2021

Introduction to the Embodied Mind Theory

- 09/2021

Intuitive and Energy Healing

- 06/2021

John McCarthy/Belinda - Bad Eating Habits

- 02/2022

John Melton/Karen - Fear of Learning to Swim

- 02/2022

John Melton/Logan - Emotions

- 02/2022

John Melton/Todd - Anxiety and Panic Attacks

- 02/2022

Kappasinian Hypnosis

- 03/2021

Lisa Machenberg/Aaron - Starting a Business

- 02/2022

Lisa Machenberg/Anniko - Stress Management

- 03/2022

Lisa Machenberg/Carissa - School Anxiety, Relationship

- 03/2022

Lisa Machenberg/Carol - Attracting the Right Relationship

- 03/2022

Make Your Hypnotherapy Material Look Professional

- 02/2022

Master the Arm Raising

- 03/2022

Mental Bank Seminar

- 06/2021

Metaphysical Imagery

- 04/2022

Mindfulness-Based Cognitive Therapy (MBCT)

- 09/2021

Mythic and Archetypal Imagery

- 05/2022

NLP: Principles and Strategies of Success

- 12/2021

Sacred Breath and the Human Potential

- 07/2021

Subtleties of Hypnotherapy

- 05/2021

The 12 Steps of AA and Hypnotherapy

- 08/2021

The Basic Understanding and Principles of NLP

- 07/2021

The Incredible Power of the Mind/Body Connection

- 09/2021

The Power of Releasing Guilt and Shame

- 04/2021

Understanding and Working with Older Patients

- 09/2021

When the Calling to Help Becomes the Obstacle

- 02/2022
---
Certifications
Certified Hypnotherapist


American Hypnosis Association - 818-758-2700
Certification Number: 010689
Certification Valid To: Oct 17, 2024
---
Certifications from the American Hypnosis Association
Advanced Imagery

- 03/2022

Certified Practitioner of Neuro-Linguistic Programming

- 10/2022

Certified Practitioner of Neuro-Linguistic Programming

- 08/2022

Healing the Inner Child

- 01/2022

Hypnosis and Sports Performance

- 10/2021

Hypnosis and Transgender Clients

- 12/2021

Hypnosis and Weight Loss

- 12/2022

Mental and Emotional Release® Therapy

- 07/2022

Past-Life Regression Therapy

- 11/2021

Smoking Cessation

- 01/2022

Therapeutic Imagery Facilitator

- 02/2022

Therapeutic Imagery Master

- 05/2022
---
Awards
Honors Graduate - Clinical Hypnotherapy Program


Hypnosis Motivation Institute - 04/11/2022
---
Professional Memberships
American Hypnosis Association


Member Since: 2021
---
Website
Wellness with Vivek
https://www.WellnesswithVivek.com/
---
Languages Spoken
---
Contact Information
Vivek Dewan
Wellness With Vivek
Rocklin, California 95765, United States
678-488-6382