Biography for
Arolyn Burns

,

LMFT

,

LPCC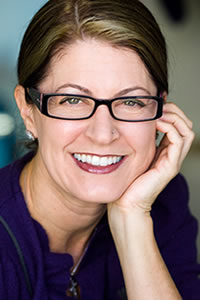 Arolyn Burns is the Director of The A Treatment Center. She is a Licensed Marriage and Family Therapist who works with people experiencing stress and anxiety from issues ranging from personal relationships, at home, work and school to performance anxiety with athletes and entertainment professionals (auditions and performances). She incorporates Hypnotherapy, EMDR, as well as Movement Therapy into her practice.
Using her psychotherapeutic skills combined with her hypnotherapy training she is extremely effective when working with people suffering from social phobias, fear of public speaking, performance anxiety, panic attacks, generalized anxiety, specific phobias (such as Dentophobia or Exam Phobia) and Post Traumatic Stress Disorder (PTSD). She enjoys watching clients bloom from wallflowers into confident, assertive individuals. And loves seeing the tension leave her clients faces as their chronic pain is reduced.
She is welcoming to her clients, and allows them to feel safe, as she listens and empathizes with their needs. Arolyn is able to identify blocks, fears, and negative associations quickly, which allows her to work effectively getting impressive results.
She specializes in working with clients who are experiencing stress and anxiety, fears, phobias, pain management, and insomnia. She has watched numerous clients achieve success in taking exams such as the BAR, the MFT exam and other standardized tests. She has helped clients achieve career success, learn anger management skills, work through abuse issues, enhance their self-esteem, reduce pain, visit the dentist with confidence, improve their game, manage their weight, athlete's perform better, and find deep relaxation through hypnosis, and other techniques. Clients have overcome trauma issues ranging from sexual abuse to personal and natural disasters (Arolyn volunteered at the Cajun Dome in Louisiana after hurricane Katrina and has volunteered in numerous other capacities).
Many have learned forgiveness and are now free from the burden of holding onto the past in a negative way. She says; "It's amazing to watch my clients grow and be free from the weight of the past".
Arolyn has a passion for helping individuals realize their dreams, conquer their fears and improve their self-esteem. Her experience as a psychotherapist coupled with her training as a hypnotherapist and EMDR specialist grants her the ability to work with a broad range of clients. She attributes her success in this industry to listening to the client, understanding deep rooted associations, the practice of prayer and being able to incorporate a variety of mediums to help the conscious mind be stronger than subconscious desires.
The A Treatment Center was honored with the Best oF Pasadena 2015 Award.
---
Languages Spoken
---
Hypnotherapy Specialties
Anger
Anxiety
Attitude Adjustment
Body Image
Chronic Pain
Creativity
Exam Anxiety
Fears
Forgiveness
Guilt
Insomnia
Irritability
Pain Management
Panic Attacks
Performance Anxiety
Relationship Enhancement
Social Phobia
Stress
Trauma
Worry
---
Experience
Arolyn has been the Director of The A Treatment Center since 2004 and has been practicing as a Marriage and Family Therapist since 1997. Her private practice allows her to move fluidly from a Psychotherapist to Hypnotherapist, and Coach. She practices EMDR and is a Certified Mediator. She is a Certified Hypnosis Weight Loss Specialist as well as is certified in Inner Child Work, Sports Performance, and Pain Management Hypnosis. Her favorite thing to do is Hypnotherapy as she has seen the client receive immediate results following a session and believes that by incorporating hypnotherapy, EMDR, psychology and prayer, any behavior can be altered.
She has experience training other licensed therapists in deep relaxation and movement therapy. She also works with corporations and small businesses in team building, increased productivity, and stress reduction activities using Deep Relaxation and Visualizations.
---
Education
B.A. Communication with Film Emphasis




Azusa Pacific University

- 626-969-3434
Date Started: 09/01/1988 - Date Graduated: 08/02/1991


M.A. Clinical Psychology




Azusa Pacific University

- 626-969-3434
Date Started: 06/01/1995 - Date Graduated: 12/15/1997
Total Hours: 3000 - Total Weeks: 250 - Total Years: 2
---
Continuing Education
Coaching for Clinicians, Strength Based Family Centered Practice, Victims Counseling Training, Child Abuse, The Batterer as a Parent, Sexual Harassment Prevention, Alternate Dispute Resolution/Conflict Resolution, Understanding Children's Sexual Behaviors: What's Healthy Aging and Long Term Care.
Arolyn was a Children's Social Worker (CSW) for LA County Department of Children and Family Services (DCFS) for over 15 years. She has worked with the county providing assessments for children with Mental Health Issues (D-Rate) as well as provided support and clinical advice to case carrying Children's Social Workers (CSW's) regarding family support services and mental health services.
She has collaborated with the Department of Mental Health (DMH) D-Rate Assessment Team and provided clinical consultations with the DCFS staff and caregivers. She has experience monitoring and tracking children who have experienced critical incidents or grief and loss. She is one of the few recipients of the Corneila Funke Award for "Extraordinary efforts to serve children and families and exemplify the best in the Department of Children and Family Services in Los Angeles County".
She has worked with psychiatric hospital discharge planning and helped with special placements for High-Risk Children. She volunteers and has also served as a Co-chair and on the Board for the Association of Batterers Intervention Programs (ABIP). She volunteers as Hospitality Coordinator at E58. She also has experience working in the Office of the Medical Director as a Children's Service Administrator at DCFS.
She continues to take courses and often does much more than the required 30 hours of Continued Education Units (CEU's) for her 2 licenses.
---
Continuing Education from the American Hypnosis Association
Basic Emotional Freedom Technique

- 02/2015

Clinical Hypnotherapy Research

- 12/2016

Emergency Hypnosis

- 04/2018
---
Certifications
Licensed Marriage and Family Therapist
Board of Behavioral Sciences
Certification Number: MFC40173

Certified Mediatior
Center for Dispute Resolution

Licensed Professional Clinical Counselor
Board of Behavioral Sciences
Certification Number: LPC54

---
Certifications from the American Hypnosis Association
Healing the Inner Child

- 05/2012

Hypnosis and Childbirth

- 03/2015

Hypnosis and Pain Management

- 06/2011

Hypnosis and PTSD

- 03/2013

Hypnosis and Sports Performance

- 07/2011

Hypnosis and Weight Loss

- 05/2012

Hypnosis for Test Anxiety and Success

- 06/2021
---
Other Certifications
Arolyn is on the referral list for EMDRIA (Eye Movement Desensitization Reprocessing International Association).
---
Awards
Cornelia Funke Award
Cornelia Funke and The Violence Intervention Program - 12/18/2014
---
Professional Memberships
California Association of Marriage and Family Therapists


Member Since: 1996

Hypnotherapists Union Local 472


Member Since: 2005

Pi Lambda Theta


Member Since: 1997

Association of Batterers Intervention Prevention - Board Chairperson


Member Since: 2007

CAQH


Member Since: 2010

CALPCC


Member Since: 2013

American Hypnosis Association


Member Since: 2006
---
Contact Information
Arolyn Burns
The A Treatment
Pasadena, California 91101, United States
626-644-8777